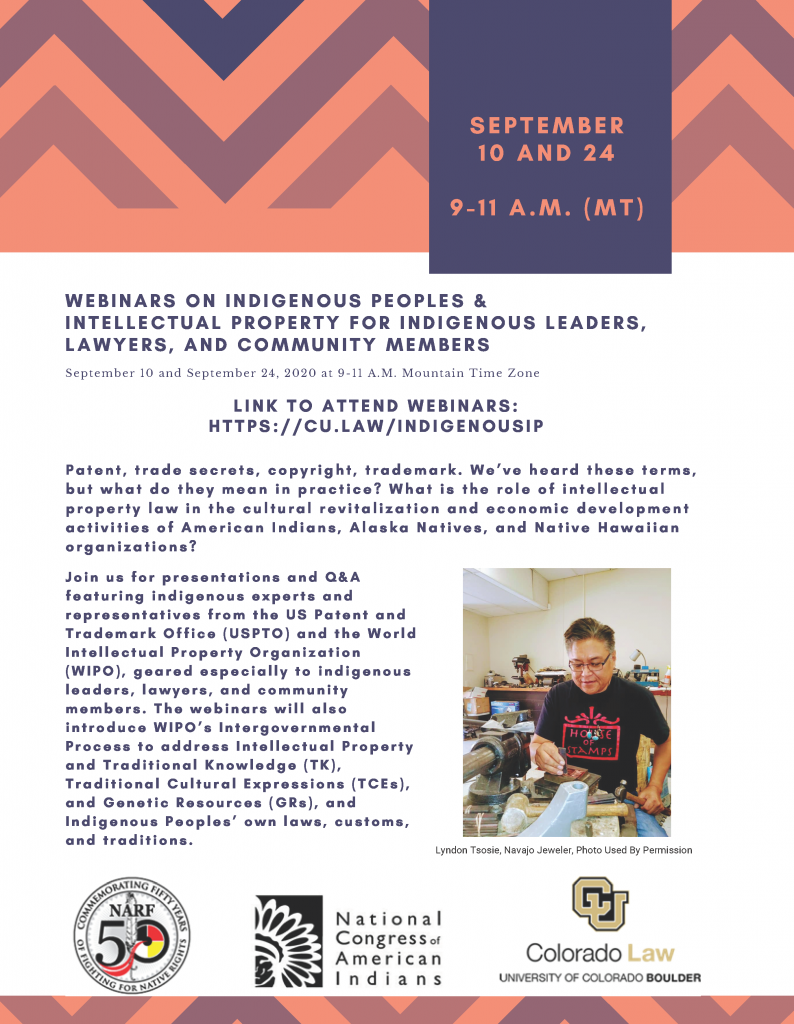 The University of Colorado Law School, the Native American Rights Fund, and the National Congress of American Indians recently collaborated on a two-part webinar series addressing the applications of, and gaps in, intellectual property rights protections for indigenous peoples' traditional knowledge and cultural expressions.
Professor Kristen Carpenter, director of Colorado Law's American Indian Law Program, and Sue Noe, staff attorney with the Native American Rights Fund, moderated the series which was held on September 10 and September 24, 2020.
Designed to help Indigenous leaders, lawyers, and community members gain insight into how intellectual property laws impact self-determination, cultural revitalization, and economic development, each installment of the series was viewed live from around the world.
The first webinar, "Overview of Intellectual Property Law, Indigenous Peoples' Traditional Knowledge and Cultural Expressions," featured panelists from the World Intellectual Property Organization, the United States Patent and Trademark Office, UCLA School of Law, and the Arizona State University Sandra Day O'Connor College of Law.
The second installment, "US Legal Protections for Traditional Knowledge & Traditional Cultural Expression, Gaps in Protection, and Indigenous Peoples' Initiatives," featured panelists from the United States Patent and Trademark Office, the United States Indian Arts and Crafts Board, Fordham Law's Fashion Law Institute, New York University, and a cultural practitioner from the Karuk Tribe of California.
Emerging human rights norms regarding indigenous peoples and intellectual property are becoming increasingly prominent as communities strive to protect their cultural heritage and practices.
You can access the webinars, related materials, and panelist contact information at https://www.narf.org/indigenous-ip-webinars/. The webinar recordings have also been embedded below for ease of access.
Webinar Series Addresses Indigenous Rights Through Intellectual Property Lens