Indigenous peoples are, in many ways, inextricably tied to place, as for many, their identity comes from a creation story or a migration that situates them in a particular homeland, and that homeland gives rise to values and norms that dictate and guide their lives on earth, their relationships with one another, and the natural world. These sacred places are linked to identity, contemporary ceremony, religious rituals, and the practice of what American law terms "religion."
In many cases, in order for the tribe to exist as a people, they need ongoing access to that place. However, the process of conquest and colonization placed these sites under ownership and management of the U.S. government, which to this day threatens the existence of these sacred sites. Just recently, Congress sold Oak Flat, a sacred site for the Apache people, to a mining company. There, the Apache engage in a coming-of-age ceremony for women. The U.S.' control of Oak Flat hindered young Apache women's ability to transition to adulthood and participate in their roles in the community.
Related Links: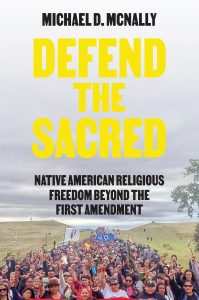 From North Dakota's Standing Rock encampments to Arizona's San Francisco Peaks, Native Americans have repeatedly asserted legal rights to religious ...
Read More