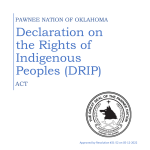 On May 12, 2022, the Pawnee Nation of Oklahoma took an historic step in the movement toward achieving implementation of the U.N. Declaration on the Rights of Peoples. The tribal government enacted the Pawnee Nation Declaration on the Rights of Indigenous Peoples Act (PNDRIPA). Joining calls from the National Congress of American Indians, the Inter-Tribal Council of the Five Civilized Tribes, and other tribal nations, the Act requests President Biden to develop a national plan, in consultation with tribal nations, Alaska Natives, and Native Hawaiians, and to implement the U.N. Declaration on the Rights of Indigenous Peoples (Declaration) into federal laws and policies.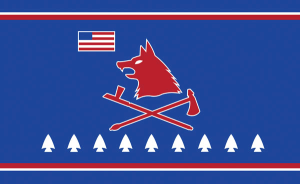 The Act also calls on states where the Pawnee homeland and sacred places are located – Oklahoma, Kansas, Nebraska, and Colorado – to likewise implement the Declaration's provisions into their state laws and policies. The Act was adopted by Pawnee Nation Resolution #21-52, which also establishes a new tribal policy of using the Declaration as a moral compass for tribal leadership to consult when making Pawnee Nation law and policy.
"The Pawnee Act will strengthen our Nation's intergovernmental affairs," said Pawnee Nation Councilwoman Dawna Hare, who serves as Chair of the Pawnee Nation Intergovernmental Affairs Committee. "PNDRIPA will put our nation on stronger ground in working with federal and state governments to protect the vital interests of the Pawnee Nation and its citizens."
Prior to passing the act, the Pawnee government co-hosted an inter-tribal workshop in Fall 2021 with The Implementation Project, a joint initiative of the Native American Rights Fund and the University of Colorado Law School to advance education and advocacy regarding the Declaration. "Today, many nations are implementing U.N. Indigenous rights standards into their domestic laws and policies to strengthen Indigenous rights," said Pawnee Nation President Walter R. Echo-Hawk.
Tribal governments have many pathways to implementing the U.N. Declaration. For more information, see the Tribal Implementation Toolkit and other resources available on the Project's website.
Pawnee Nation Passes Landmark "Pawnee Nation Declaration on the Rights of Indigenous Peoples Act"