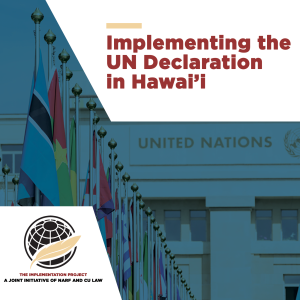 Next week, The Implementation Project (TIP) in partnership with the Walter H. Capps Center for the Study of Ethics, Religion, and Public Life at the University of California, Santa Barbara, will hold discussions with Native Hawaiian cultural practitioners, leaders, experts, attorneys, and advocates about using the U.N. Declaration on the Rights of Indigenous Peoples (the Declaration) to protect their peoples and communities. "Native Hawaiians constitute one of the largest Native communities in the United States, and as an independent kingdom have had and continue to have a complex relationship with colonizing nations," said Implementation Project Co-Director Kristen Carpenter, the Colorado Law American Indian Law Program Director and Council Tree Professor of Law.
The sessions will explore ways the Declaration can support the protection of sacred places, language revitalization, food sovereignty, and cultural rights among Native Hawaiian communities. "We look forward to collaborating with the people of Hawai'i to identify the priorities and next steps that their communities want to explore to implement Declaration protections for their political representation, cultural heritage, lands, and waters," said Implementation Project Co-Director and Native American Rights Fund (NARF) Staff Attorney Sue Noe.
The Hawai`i workshops involve three co-organizers, Camille K. Kalama, Edward Halealoha Ayau, and Professor Greg Johnson, who all have ties to The Implementation Project: Kalama, a Native Hawaiian attorney, is a member of NARF's board of directors; Ayau, a longtime leader in burial protection and international repatriation efforts, was a clerk at NARF early in his career; and Professor Johnson, Director of the Walter Capps Center, who studies the intersection of law and religion in Hawaii, has participated in TIP-related events and publications.
After the discussions, TIP will collaborate with Professor Johnson and other partners to create a publication about Hawai'i and the Declaration. The Henry Luce Foundation contributed funding to make this outreach possible. For additional information about how Indigenous communities in the United States have begun to implement the Declaration, check out project Resources and Latest News.
How Native Hawai'i Can Implement the UN Declaration