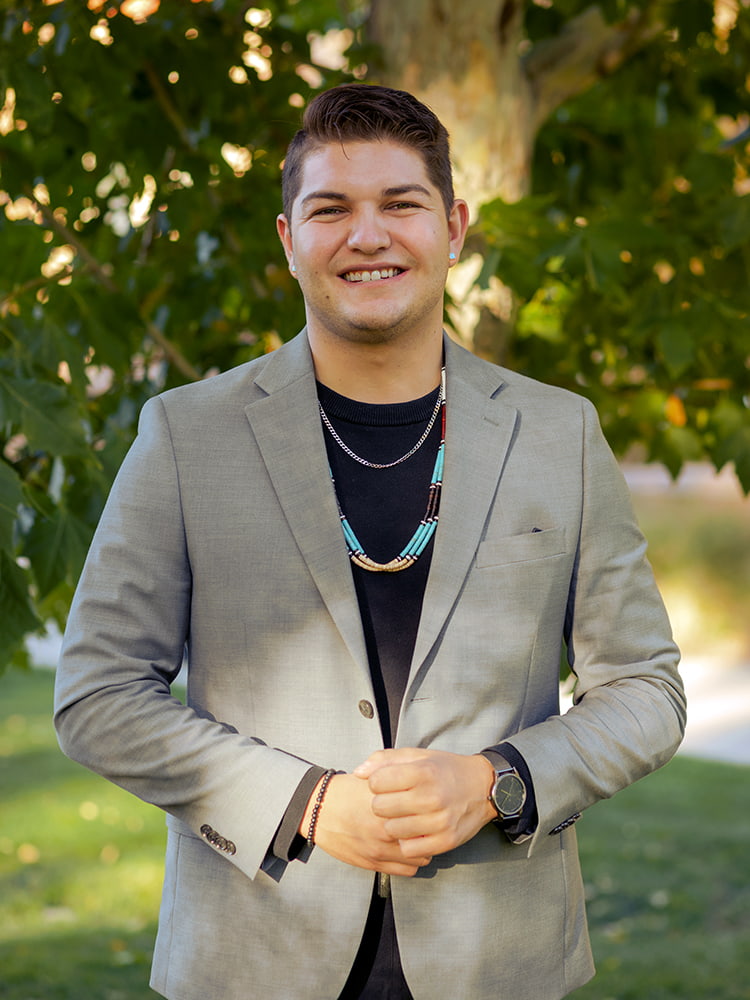 Mason Estes has joined the NARF team as a Project Coordinator for The Implementation Project, a joint initiative of the University of Colorado Law School and the Native American Rights Fund (NARF), to advance education and advocacy regarding the United Nations Declaration on the Rights of Indigenous Peoples (the Declaration). He will apply his extensive experience in community organizing and event planning to the vital new role.
"I look forward to helping leaders of tribal governments, community organizers, and others working to implement the Declaration in the United States connect with the resources The Implementation Project can offer them," said Estes. "I'm excited to be working as part of The Implementation Project because I see the Project as being on the front lines in the fight for Indigenous human rights. To be able to work with such amazing professionals in service of pursuing a better future for our communities is an honor, and something I couldn't be more ready for!"
As a La Jolla Band of Luiseño, Estes grew up in Colorado, traveling to his tribal homelands in California at every opportunity. He earned a degree in Business Administration at the University of Denver, with a specialization in marketing.
"Having a Project Coordinator can greatly advance The Implementation Project's efforts toward the goal of full implementation of the promises of the U.N. Declaration in the U.S. We're very grateful to have Mason on board to help organize and deploy resources to assist tribes and others working to implement the protections of the Declaration," said NARF Staff Attorney and Project Co-Director Sue Noe.
A generous investment in social justice made to NARF from The Henry Luce Foundation makes this new part-time position possible. "In this role, Mason Estes uniquely contributes optimism, a strong skill set, and a readiness to pitch in immediately," said Implementation Project Co-Director Kristen Carpenter, the Colorado Law American Indian Law Program Director and Council Tree Professor of Law. "We intend to make the most of this investment for the benefit of Indigenous Peoples and protecting human rights in the U.S."
To thank the Henry Luce Foundation for stepping up to support the battle to protect Native rights, please connect with the Foundation on social media (Facebook | Twitter).
New to the Team: Mason Estes